About Obamacare and those State Health Exchanges
RALLY REPORT: We got the job done and 61% of Tennesseans agree
VICTORY: Tennessee Says "NO" to State Exchanges
Obamacare implementation craters under state objections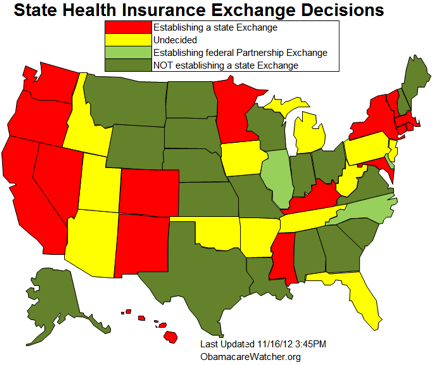 By Rick Manning — The national health care law jumped back into the headlines last week as a deadline for states to decide whether to establish individual state health care exchanges approached and then was extended by the Obama Administration to December 14.
The delay was requested by the Republican Governor's Association whose members had posed questions of the Obama Administration about the law over the past few months that remained unanswered.
Over the past week, the list of states not participating in the system has grown to nineteen as the states of Wisconsin, Ohio and Nebraska chose to join sixteen others in rejecting the state health insurance exchange that is called for under the Obamacare law. Read more here.
The Tennessee Health Freedom Act
NOTE: We are now being told that the federal law would override our state law. Regardless, it seems to me that the passage of the Tennessee Health Freedom Act was an expression of the will of the voters of Tennessee through their duly elected representatives.
I don't see how the Governor or a state legislator could justify supporting the Obamacare state health exchanges in view of the provisions of the Tennessee Health Freedom Act passed in 2011. You can contact Governor Bill Haslam: Phone: 615.741.2001; Email: bill.haslam@tn.gov

The Tennessee General Assembly website already has all the newly elected legislators listed. You are encouraged to contact your State Senator and your State Representative is you don't know where they stand on the important issue:

To find your, go to: http://www.legislature.state.tn.us/. In the lower right hand corner you will see "Find my legislator". Put your address in and your senator and house member will come up. Click on their pictures to find their phone numbers. A phone call is recommended as the new legislators may not yet be receiving emails at home.

Tennessee Health Freedom Act

"It is declared that the public policy of this state...is that...The government may not interfere with a citizen's right to refuse to purchase health insurance. The government may not enact a law that would restrict these rights or that would impose a form of punishment for exercising either of these rights....

"No public official, employee, or agent of this state or any of its political subdivisions shall act to impose, collect, enforce, or effectuate any penalty in this state that violates the public policy set forth in this section."

SB0079 Passed in 2011, has been assigned Public Chapter Number 9 by the Secretary of State.
Obamacare Is Still Vulnerable
President Obama has won reelection, and his administration has asked state officials to decide by Friday, November 16, whether their state will create one of Obamacare's health-insurance "exchanges." States also have to decide whether to implement the law's massive expansion of Medicaid. The correct answer to both questions remains a resounding no.
State-created exchanges mean higher taxes, fewer jobs, and less protection of religious freedom. States are better off defaulting to a federal exchange. The Medicaid expansion is likewise too costly and risky a proposition. Republican Governors Association chairman Bob McDonnell (R.,Va.) agrees, and has announced that Virginia will implement neither provision.
There are many arguments against creating exchanges.
First, states are under no obligation to create one.
Second, operating an Obamacare exchange would be illegal in 14 states. Alabama, Arizona, Georgia, Idaho, Indiana, Kansas, Louisiana, Missouri, Montana, Ohio, Oklahoma, Tennessee, Utah, and Virginia have enacted either statutes or constitutional amendments (or both) forbidding state employees to participate in an essential exchange function: implementing Obamacare's individual and employer mandates.
Third, each exchange would cost its state an estimated $10 million to $100 million per year, necessitating tax increases.
Fourth, the November 16 deadline is no more real than the "deadlines" for implementing REAL ID, which have been pushed back repeatedly since 2008.
Fifth, states can always create an exchange later if they choose.
Sixth, a state-created exchange is not a state-controlled exchange. All exchanges will be controlled by Washington. Read more here.
Republican governors shouldn't help implement Obamacare
For several years, opposition to President Obama's health care law focused on its mandate that forces individuals to purchase government-approved insurance. By upholding the mandate as a constitutional exercise of Congress's taxing power in June, the U.S. Supreme Court maintained the provision that helped hold the law together. But if the mandate is the cement, the law's expansion of Medicaid and establishment of subsidized health insurance exchanges is the house itself. It's these two provisions that will be responsible for $1.7 trillion of spending over the next decade, according to the Congressional Budget Office. Together, they are expected to provide insurance to 30 million Americans and create the infrastructure that liberals hope to use to transition the nation, over time, into a fully government-run, or single payer, health care system. With the election over and Obama reelected, repealing the law is not going to happen over the next four years. So 30 Republican governors will have to make a decision about whether they want to help the federal government implement Obamacare, or keep the onus on the Obama administration.
One of the silver linings of the Supreme Court decision is that it gave states the ability to opt out of the Medicaid expansion. Medicaid is one of the programs that is crushing state budgets and if implemented as intended, Obamacare will add 18 million beneficiaries to the program's rolls. Though the federal government lures states with a honey pot in the short term – covering all of the expansion through 2016, by 2020 the states will be asked to kick in 10 percent of the cost, amounting to billions of dollars of spending imposed on states nationwide each year. It would be to the long-term benefit of governors to opt of the expansion.
Separately, the health care law was designed to coerce governors into embracing exchanges on which individuals will be provided with federal subsidies to purchase insurance. If a state doesn't establish its own exchange, the law specifies that the federal government will step in and set one up for them. Given that Republicans typically favor more state and local control, there's a clear temptation for them to cave in, assuming that the lesser of two evils by implementing the exchanges themselves. But they should resist that temptation. Read more here.
CCHF Discusses Impact of Obama's Re-election on Implementation of the ACA
States Must Continue to Resist Obamacare's State Exchanges to Preserve
Privacy, Quality of Care, Access to Doctors for Citizens
Key Facts:
• Obama's re-election could fast track his principal "achievement," the Patient Protection
and Affordable Care Act.
• The law, commonly referred to as the ACA, has been shown by many to decrease benefits
and quality of care and access to doctors as well as impinge on privacy.
• The Citizens' Council for Health Freedom, or CCHF, is urging states to strongly resist
implementation of Obamacare's state health insurance exchanges, as these are the
cornerstone that allows Obamacare to continue and the instrument by which the federal
government controls health care and tracks compliance with the ACA.
• CCHF has sent certified letters to all 50 state governors, requesting that they refuse to
cooperate in the establishment of any state-run or federally-run exchange.
Read more here.

Seven Reasons to Vote NO on Health Care Exchange
Citizens' Council for Health Freedom www.cchfreedom.org 651-646-8935

1. There is Only ONE Exchange. The Obamacare Exchange. There is no
"state" exchange. There is only the federal Exchange. Obamacare requires States
to establish a government-run federally-controlled American Health Benefit
Exchange, which must comply with Obamacare and coming federal rules. As
Grace-Marie Turner at Galen Institute said about Exchanges in Reason, "States
will not be able to do it their way. They'll have to do it Washington's way."

2. "State Flexibility" is a Ruse. Obama is hoping a veneer of "flexibility" will
convince state legislatures to establish the federal government-run Exchange in
each state. As Michael Cannon at the CATO Institute writes in National Review:
"...federal control is not just the exchanges' default setting — it's the only setting. In a February 24 letter to the nation's governors, Sebelius extolled the four types of flexibility that Obamacare allows states in shaping their exchanges: 1) States can restrict insurers from participating; 2) states canadd even more benefit mandates than Obamacare requires; 3) come 2017, states can opt out of Obamacare by creating a single-payer health-care system; and 4) states can adopt their own
"governance structure" and "operational philosophy." In sum, states can impose harsherregulations than Obamacare requires and can choose who sits on their exchange's board. That's it. The only additional latitude the Obama administration has offered came when President Obama told the National Governors Association that he is open to letting them launch single-payer systems in 2014 rather than 2017. [emphasis ours]

3. Exchange is NOT a "Marketplace" and "Sunset" is Trojan Horse.
RomneyCare's Connector (Exchange) first offered 24 choices of health plans,
now only seven. The Wall Street Journal reported 5/13/11: "Mr. Romney's
political appointees converted the architecture of the "connector" [Exchange]
that was supposed to support individual and small-business insurance choice into
a regulatory body dedicated to stamping it out." People without employersponsored
coverage will be forced to buy insurance through the government-run
Exchange. Government does not establish markets; its impedes them. And
"Sunsets" allow objectionable language to become law -- usually permanently.
See more here.
Republican governors decide against setting up ObamaCare insurance markets
Several Republican governors, in what could be their last symbolic stand against ObamaCare, announced Friday that they will not set up a state-based marketplace for selling health insurance.

A total of 20 states have now decided not to implement their own exchanges -- which could also mean increased costs for the federal government.

The governors of Wisconsin and Ohio joined Texas Gov. Rick Perry and others in confirming that they will not establish so-called "health insurance exchanges," which are set to launch in January 2014. Under the federal health care overhaul, these exchanges will act as virtual markets where people and small businesses can shop for private coverage in a regulated environment. Many will also be eligible for government subsidies.

The governors' move does not stop those exchanges from being implemented. Rather, it kicks the project back to the federal government to run with regard to those states. While a number of states, largely those run by Democrats, will establish their own exchanges, Republicans who declined argued that it wasn't worth the cost and resources to set up a marketplace that would be under the thumb of the federal government anyway.

"As long as the federal government has the ability to force unknown mandates and costs upon our citizens, while retaining the sole power in approving what an exchange looks like, the notion of a state exchange is merely an illusion," Perry wrote in a letter to Health and Human Services Secretary Kathleen Sebelius. "It would not be fiscally responsible to put hard-working Texans on the financial hook for an unknown amount of money to operate a system under rules that have not even been written."

Wisconsin Gov. Scott Walker said the same, writing in a letter to Sebelius Friday that "no matter which option is chosen, Wisconsin taxpayers will not have meaningful control over the health care policies and services sold to Wisconsin residents." With that in mind, he wrote, the state has decided not to build its own system. Ohio Gov. John Kasich echoed that point of view. Read more here.