Wednesday, 28 October 2009
OBAMA-CARE: Sustain the opposition!!
COMMENT: Well, folks, the 'health care beast' is up and moving again. Sen. Harry Reid is pushing his bill that he now says will include the 'Public Option'. However, 'Public Option' has become so tainted that Nancy Peolsi thinks it needs a new name and is suggesting 'consumer option', as if that would change the objection to the concept. "A rose by any other name....."

Happily Sen. Lieberman is NOT happy! Another 'happy' is that four Democrat senators remain uncommitted on the health care bill that Sen. Majority Leader Harry Reid will try to bring to the floor. Sens. Ben Nelson of Nebraska, Mary Landrieu of Louisiana, Evan Bayh of Indiana and Blanche Lincoln of Arkansas all declined to say on Tuesday how they would vote. Leaked memo is encouraging too. TN Governor Bresdsen has said the cost federal health care legislation could exceed $3 billion.
Abortion funding is still in debate (see final article).

On Monday, I received a call expressing concern that the grassroots opposition to ObamaCare seems to have declined.
We CANNOT let that happen. Our JOB is to keep the pressure on, especially now while there is so much chaos in DC.
The rallies, the Tea Parties, the Town Hall meetings were all wonderful, but it is sustained engagement that gets the job done. "Do not be weary in well doing, for in due season we shall reap, if we faint not.

ACTION: Go HERE to send you senators and congressman an email. Go HERE to find phone numbers.
Out-of-state subscribers go HERE to find your Senators; go HERE to find your congressman.

Leaked Internal House Leadership Whip Count Shows 47 Dems at No, 8 Leaning No and 12 Undecided


Senate on Verge of Health Bill
Measure With Stiffer Penalties on Employers and Public Plan Could Come This Week
WASHINGTON -- Top Senate Democrats are close to finalizing their health bill and could unveil a measure as soon as early this week that would include stiffer penalties on employers who fail to provide health coverage.
Senate leaders plan to submit the bill to the Congressional Budget Office for a cost estimate as soon as Monday, and make the legislation public as soon as Tuesday, according to a person familiar with the negotiations.
Details of the legislation could change, but its broad outlines are becoming clear. Employers with more than 50 workers wouldn't be required to provide health insurance, but they would face fines of up to $750 per employee if even part of their work force received a government subsidy to buy health insurance, this person said. A bill passed by the Senate Finance Committee had a lower fine of up to $400 per employee.
The bill to be brought to the Senate floor would create a new public health-insurance plan, but would give states the choice of opting out of participating in it, a proposal that Senate Majority Leader Harry Reid of Nevada backed last week.
Read more here.
Harrycare Buckles to Government Option
Senate Majority Leader Harry Reid (D-Nev.) announced yesterday that his "Harrycare" bill will include a government option. Looking a great deal like a man who can see the end of his political career looming over the horizon, Reid buckled to the far left ideologues in the White House and his caucus to go over the political cliff.
"We intend to include it [a government option] in the bill that will be submitted to the Senate," Reid said at the presser. "We've spent countless hours over the past few days in consultation with Senators who've shown and share a desire to reform the health care system, and I believe there is a strong consensus to move forward in this direction."
Oops, thought this was about reforming "insurance" not the "health care system," Sen. Reid. Must be a misspeak after all those long hours.
Reid also said his bill will include an "opt out" at the state level which is a façade. Can individuals "opt out" of the penalties and the mandatory coverage? Can individuals "opt out" of paying for government-run health care for everyone else in the country in the form of higher premiums, higher taxes, and Medicare cuts? Can small business owners "opt out" of the higher payroll taxes?
Who decides what a state does? The legislature? The governor? A state referendum? It's not clear. Also unclear is what exactly happens in Reid's "opt out" scenario between passage and the drop dead of 2014 for the state "opt out" date, if you'll pardon the unfortunate juxtaposition.
Read more here.
Lieberman opposes Reid's health care plan
Tuesday, October 27, 2009
Connecticut Sen. Joseph Lieberman says while he's "strongly inclined" to vote to move Sen. Harry Reid's health care plan to the Senate floor for debate, he would ultimately oppose the measure because it includes a public option.
Lieberman said Tuesday in a telephone interview with The Associated Press that he's worried a public option would be costly to taxpayers and drive up insurance premiums.
Read more here.
Democrats struggle to find unity on health plan
WASHINGTON (AP) - Democrats are still struggling to find a strategy that will let them push a health care overhaul through the Senate and fulfill President Barack Obama's goal of signing a bill this year.
A day after Majority Leader Harry Reid announced that the Democratic bill would include the option of a government insurance plan, moderates in his own party lost no time Tuesday in voicing their displeasure. Reid, D-Nev., needs every Democrat to break the filibusters Republicans are vowing to mount. But some of the moderates refuse to say whether they'll stick with their leader on procedural votes, let alone those on the merits of the bill.
"We are a long way from reaching conclusion," said Budget Committee Chairman Kent Conrad, D-N.D.
Speaker Nancy Pelosi is in a similar position in the House. Efforts to draft a consensus health care bill for a vote have been stalled for more than two weeks because of disagreements among Democrats. Read more here.
The 'Public Plan' Delusion
By
Robert Samuelson
WASHINGTON -- In the health care debate, the "public plan" is all things to all people. For supporters, it would discipline greedy private insurers and make health coverage affordable. For detractors, it's a way station on the path to a single-payer insurance system of government-run health care. In reality, the public plan is mostly an exercise in political avoidance: It pretends to control costs and improve access to quality care when it doesn't.
As originally conceived by Yale political scientist Jacob Hacker, the public plan would be a government-created, nonprofit insurance company providing Medicare-like coverage to the under-65 population. But unlike Medicare, benefits would be paid for mainly by premiums -- not taxes. Americans could buy coverage from the public plan or a private insurer.
Competition and choice would increase, say liberals. Facing the low-cost public plan, private insurers would hold down their own premiums, the argument goes. Health care costs for everyone would moderate. Government subsidies to provide universal coverage would be cheaper. By some estimates, Medicare's administrative costs are only 3 percent of spending compared with 13 percent or more for private insurers. A new public plan is widely presumed to enjoy an advantage in overhead. Read more here.


Hoyer Tries to Appease Stupak on Abortion Funding in Health Care Bill; Stupak Stands by Vow to Kill Bill If No Vote on His Pro-Life Amendment
Tuesday, October 27, 2009
By
Matt Cover, Staff Writer
(CNSNews.com) – House Majority Leader Steny Hoyer (D-Md.) said he hoped something could be worked out to address Rep. Bart Stupak's (D-Mich.) insistence that the House vote on his amendment to explicitly prohibit any federal money from paying for any part of a health insurance plan that covers abortion when the the health care bill (H.R. 3200) comes to the House floor.

Hoyer, however, declined to say whether he would actually support a floor vote on Stupak's amendment. Hoyer did say that Stupak's proposal perhaps could be included in what he called "a manager's amendment."

Stupak, meanwhile, is standing by his vow to try to kill the health care bill entirely if House Speaker Nancy Pelosi does not allow a direct up or down vote on his amendment on the House floor.

Stupak told CNSNews.com last week that he has organized a group of "about 40 likeminded Democrats" who are supporting him in this effort.
Read more here.
Posted on 10/28/2009 3:45 PM by Bobbie Patray
Monday, 19 October 2009
Cair's Inner Workings Exposed
COMMENT: If have said it before and I will continue to say it, we ignore this situation to our peril. We must take EVERY opportunity to education ourselves on what is happening in this country right under our noses.

Book below can be ordered HERE.


CAIR's Inner Workings Exposed
The Council on American-Islamic Relations has, since its founding in 1994, served as the Islamist movement in North America's most high-profile, belligerent, manipulative, and aggressive agency. From its headquarters in Washington, D.C., CAIR also sets the agenda and tone for the entire Wahhabi lobby.
A substantial body of criticism about CAIR exists, some of it by me, but until now, the group's smash-mouths and extremists have managed to survive all revelations about its record. The publication this week of Muslim Mafia: Inside the Secret Underworld That's Conspiring to Islamize America (WND Books) may, however, change the equation.
Written by P. David Gaubatz and Paul Sperry, the investigation is based largely on the undercover work of Gaubatz's son Chris who spent six months as an intern at CAIR's D.C. headquarters in 2008. In that capacity, he acquired 12,000 pages of documentation and took 300 hours of video.
Chris Gaubatz's information reveals much that the secretive CAIR wants hidden, including its strategy, finances, membership, and internal disputes, thereby exposing its shady and possibly illegal methods. As the book contains too much new information to summarize in small compass, I shall focus here on one dimension – the organization's inner workings, where the data shows that CAIR's claims amount to crude deceptions.
Claim 1: According to Ibrahim Hooper, the organization's communications director, "CAIR has some 50,000 members." Fact: An internal memo prepared in June 2007 for a staff meeting reports that the organization had precisely 5,133 members, about one-tenth Hooper's exaggerated number.
Claim 2: CAIR is a "grass-roots organization" that depends financially on its members. Fact: According to an internal 2002 board meeting report, the organization received $33,000 in dues and $1,071,000 in donations. In other words, under 3 percent of its income derives from membership dues.
Claim 3: CAIR receives "no support from any overseas group or government." Fact: Gaubatz and Sperry report that 60 percent of CAIR's income derives from two dozen donors, most of whom live outside the United States. Specifically: $978,000 from the ruler of Dubai in 2002 in exchange for controlling interest in its headquarters property on New Jersey Avenue, a $500,000 gift from Saudi prince al-Waleed bin Talal and $112,000 in 2007 from Saudi prince Abdullah bin Mosa'ad, at least $300,000 from the Saudi-based Organization of the Islamic Conference, $250,000 from the Islamic Development Bank, and at least $17,000 from the American office of the Saudi-based International Islamic Relief Organization.
Claim 4: CAIR is an independent, domestic human rights group "similar to a Muslim NAACP." Fact: In a desperate search for funding, CAIR has offered its services to forward the commercial interests of foreign firms. This came to light in the aftermath of Dubai Ports World's failed effort to purchase six U.S. harbors in 2006 due to security fears. In response, CAIR's chairman traveled to Dubai and suggested to businessmen there: "Do not think about your contributions [to CAIR] as donations. Think about it from the perspective of rate of return. The investment of $50 million will give you billions of dollars in return for fifty years." Read more here.


CAIR attempts to torpedo Capitol press conference

Posted on 10/19/2009 11:49 AM by Bobbie Patray
Friday, 16 October 2009
Gay rights advocates march on DC

COMMENT: President Obama was the keynote speaker at the Human Rights Commission held its dinner in Washington DC on Saturday evening [text of speech here] and the National Equality March was held on Sunday. They even had special events for young people.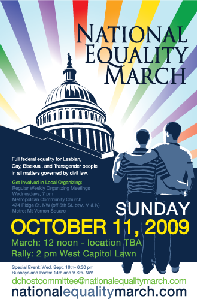 1. Obama's 'Gay' Speech
Posted 10/12/2009 ET

"Obama's speech demonstrates conclusively that he intends to forcibly change America's moral compass by rewriting our laws to force all Americans to embrace the radical gay agenda."

President Obama renewed his pledge to end the military's ban on homosexuals at a fund-raising dinner in Washington Saturday night. His speech was designed to buy more time from the impatient gay community that aggressively supported his bid for the presidency.
"I will end 'don't ask, don't tell,'" Obama promised 3,000 supporters of the Human Rights Campaign (HRC), a far-left group that promotes forcing Americans to embrace homosexual behavior. The commander-in-chief said "That's my commitment to you" but he offered no timetable.
He assured the cheering audience "I'm here with a simple message: I'm here with you in that fight." Then Obama said "Do not doubt the direction we are headed and the destination we will reach" and "my commitment to you is unwavering."
He reviewed his campaign pledge to be "a fierce advocate for gay and lesbian Americans" and then outlined evidence of his pro-homosexual accomplishments and the way-ahead.
Obama reminded those at the $250-a-plate black tie event that his administration has extended benefits to the spouses of homosexual federal employees, hosted a "Gay Pride" month celebration and distributed tickets to gay "families" to attend the annual White House Easter Egg Roll. He also appointed John Berry to serve as Director of the Office of Personnel Management, the highest-ranking openly homosexual official in U.S. history. Read more here.



2. Homosexual Activists Say They 'Won't Back Down'
Monday, October 12, 2009
By

Brett Zongker



Washington (AP) - Rainbow flags fluttered above the crowds near the White House as tens of thousands of gay rights supporters rallied to demand that President Barack Obama keep his promises to end discrimination against gays and also let them serve openly in the military.

"Hey, Obama, let mama marry mama" some chanted on Sunday. Others cried out, "We're out, we're proud, we won't back down."

Some taking part in the National Equality March woke up energized by Obama's promise to end the ban on gays serving openly in the military. He made that pledge in a speech Saturday night to the Human Rights Campaign, nation's largest gay rights group.

The chairman of the Senate Armed Services Committee said Sunday that Congress will need to muster the resolve to change the "don't ask, don't tell policy" -- a change that the military may be ready for.

"I think it has to be done in the right way, which is to get a buy-in from the military, which I think is now possible," said Sen. Carl Levin, D-Mich.
Read more here.
3. Gay rights advocates march on DC, divided on Obama
Rainbow flags and homemade signs dotted the crowds filling Pennsylvania Avenue in front of the White House as people chanted "Hey, Obama, let mama marry mama" and "We're out, we're proud, we won't back down." Many children were also among the protesters. A few counter-protesters had also joined the crowd, which stretched several blocks by the afternoon..........

Keynote speaker Julian Bond, chairman of the NAACP, firmly linked the gay rights struggle to the Civil Rights movement, saying gays and lesbians should be free from discrimination.
"Black people of all people should not oppose equality, and that is what marriage is all about," he said. "We have a lot of real and serious problems in this country, and same-sex marriage is not one of them. Good things don't come to those who wait, but they come to those who agitate."
Some participants in the National Equality March woke up energized by Obama's blunt pledge to end the ban on gays serving openly in the military during a speech to the nation's largest gay rights group Saturday night. Read more here.
Posted on 10/16/2009 5:19 AM by bobbie@tneagleforum.org
Friday, 16 October 2009
Not a Death Panel, a Death Mandate
IMPORTANT -- VIEW THIS BRIEF VIDEO: Stop Hiding Behind Hyde

Not a Death Panel, a Death Mandate

If you are someone who believes killing unborn children is a right that should be legally protected and made available to all pregnant women, and that the government should eventually take over the U.S. health care system, then you must believe that the government should get into the business of killing unborn babies.
And if you believe that, then you believe that the law must compel certain government officials to cooperate in the killing of innocents.
In a government-run or government-funded health care system that guarantees access to abortion, there must be people in government responsible for making sure unborn babies get killed.
In fact, the health care bill that the Senate Finance Committee finished amending last week specifically assigns just such a duty to the secretary of health and human services.
The Senate Finance Committee proposal would create an "exchange" in each state where people can buy health insurance from companies offering government-approved insurance plans. Americans making up to 300 percent of the federal poverty level would be eligible for a "refundable tax credit" to buy insurance -- but they could only use this credit to buy insurance from a company offering a government-approved plan in the exchange. People making 300 percent to 400 percent of poverty would also be eligible for a credit if their insurance costs more than 12 percent of their income and they purchased a government-approved plan in the exchange.
The government would not pay the credit to the individual but would pay it instead directly to the government-approved insurance plan.
"The Treasury would pay the premium credit amount to the insurance plan in which the individual is enrolled," explains the summary of the bill published by the Finance Committee. "The individual would then pay to the plan in which he or she enrolled the dollar difference between the premium credit amount and the premium charged for the plan."
Here's where the government's need to have an official who is complicit in abortions comes in.
Page 33 of the summary of the bill posted on the Senate Finance Committee's Website carries the subheading: "Rules Regarding Coverage of and Tax Credits for Specified Services." Under this subheading it says: "The Secretary would ensure that in each state exchange, at least one plan provides coverage of abortions beyond those for which Federal funds appropriated for the Department of Health and Human Services are permitted."
Currently, under the Hyde Amendment, federal funds can only go to abortions done in cases of rape, incest or a threat to the life of the mother. What the Finance Committee bill does is mandate that the secretary of health and human services make certain that the health insurance exchange in every state include an insurance plan that covers abortions that go beyond those funded by the Hyde Amendment -- that go beyond covering abortion in cases of rape, incest or a threat to the life of the mother. The bill requires the secretary to make certain every state has an insurance plan that people can buy with money paid directly out of the U.S. Treasury that covers abortion on demand.
REad more here
Posted on 10/16/2009 5:16 AM by Bobbie Patray
Saturday, 10 October 2009
Congress' Secret Plan to Pass Obamacare
1. The Lesson of State Health-Care Reforms
The major provisions of ObamaCare already have been tried. They've led to increased costs and reduced access to care.
Supreme Court Justice Louis Brandeis famously envisioned the states serving as laboratories, trying "novel social and economic experiments without risk to the rest of the country." And on health care, that's just what they've done.

Like participants in a national science fair, state governments have tested variants on most of the major components of the health-care reform plans currently being considered in Congress. The results have been dramatically increased premiums in the individual market, spiraling public health-care costs, and reduced access to care. In other words: The reforms have failed.
New York is exhibit A. In 1993, the state prohibited insurers from declining to cover individuals with pre-existing health conditions ("guaranteed issue"). New York also required insurers to charge those enrolled in their plans the same premium, regardless of health status, age or sex ("community rating"). The goal was to reduce the number of uninsured by making health insurance more accessible, particularly to those who don't have employer-provided insurance.
It hasn't worked out very well, according to a Manhattan Institute study released last month by Stephen T. Parente, a professor of finance at the University of Minnesota and Tarren Bragdon, CEO of the Maine Heritage Policy Center. In 1994, there were just under 752,000 individuals enrolled in individual insurance plans, or about 4.7% of the nonelderly population. This put New York roughly in line with the rest of the U.S. Today, that percentage has dropped to just 0.2% of the state's nonelderly. In contrast, between 1994 and 2007, the total number of people insured in the individual market across the U.S. rose to 5.5% from 4.5%. Read more here

2. The Baucus Bill: A Closer Look at the CBO Report
Looking beyond the media hype, taxpayers should remember a few crucial facts about the recent CBO/JCT analysis of the Finance Committee's provisions for the America's Healthy Future Act of 2009. As former CBO Director Donald Marron
has pointed out
, there is more to CBO's analysis than short term budget estimates.
The analysis is preliminary. As the letter points out, the analysis is still not based on legislative language. Moreover, Senate Leaders have to merge the bill with the HELP Committee bill before the bill comes to the floor. Therefore, it is highly unlikely that the current analysis will be relevant to the debate much past the upcoming Finance Committee vote.
Cost. The projected $829 billion ten year cost is no guarantee of anything. Virtually all cost estimates of government programs underestimate the true cost. Take for example Medicare. In 1965, it was projected to cost $12 billion in 1990, but its actual cost in 1990 was over $100 billion. Just recently, the SCHIP program with a fixed 10 year budget of $40 billion was reauthorized for five years at a new price tag of close to $70 billion. A long term cost projection is a missing, but important component to understanding the true cost of a proposal.

Read more here.
3. Reid 'Likely' to Make Entire Health Bill an Amendment to Unrelated Tax Bill That House Passed in March
Wednesday, October 07, 2009
By
Nicholas Ballasy, Video Reporter
(CNSNews.com) -- A senior aide to Senate Majority Leader Harry Reid (D-Nev.) told CNSNews.com that it is "likely" that Reid will use H.R. 1586—a bill passed by the House in March to impose a 90-percent tax on bonuses paid to employees of certain bailed-out financial institutions—as a "shell" for enacting the final version of the Senate's health care bill, which Reid is responsible for crafting.

Under the procedure, the substance of House Resolution 1586 would be removed and replaced with the entire Senate health care package. The maneuver would initially require the support of 60 senators to vote for cloture on the motion to proceed to H.R. 1586 (i.e., end debate on the congressional procedure and move forward).

If Reid wins 60 votes, then debate begins on his health care package. Reid could then decide to block all amendments and attempt to get a vote on the entire package. Read more here.

4. Congress' Secret Plan to Pass Obamacare - CONFIRMED
Posted October 7th, 2009 at 12.38pm in
Health Care
.
Leaders in the House and Senate have a plan to pass President Barack Obama's sweeping health care plan by Thanksgiving without any significant participation by the American public. CNS News has confirmed the details in our September 22nd titled "Passing a Shell of A Bill: Congress' Secret Plan to Ram Through Health Care Reform." Nicholas Ballasy reports "a senior aide to Senate Majority Leader Harry Reid (D-NV) told CNSNews.com that it is 'likely' that Reid will use H.R. 1586—a bill passed by the House in March to impose a 90-percent tax on bonuses paid to employees of certain bailed-out financial institutions—as a 'shell' for enacting the final version of the Senate's health care bill, which Reid is responsible for crafting."
This story confirms the four part scenario that would railroad the bill through the Senate using a very unusual closed door procedure to craft the bill with no input from the American people.
The four stage plan to pass Obamacare has been publicly confirmed and is ready to be implemented. The following is a comprehensive update:
Step One: "The Senate Finance Committee will finish work on the marking up of Senator Max Baucus' (D-MT) conceptual framework for legislation by this Friday." Progress on this had been stalled and the bill was not passed by the end of last week. Foxnews.com is reporting that the Congressional Budget Office score of the bill will be released later today and a high score may further stall progress on the Committee's Vapor Bill. Senate Finance Committee's progress on passing something out of committee – INCOMPLETE.
Step Two: Next, Senate Majority Leader Harry Reid will take the final product of the Senate Finance Committee and merge it with the product of the Senate Health, Education, Labor & Pensions (HELP) Committee. CNSnews.com has confirmed that "the actual final text of the legislation will be determined by Reid himself, who will consolidate the legislation approved by the Senate Health, Education, Labor and Pensions Committee and the still-unapproved legislation from the Senate Finance Committee. Reid will be able to draft and insert textual language that was not expressly approved by either committee." Senate Majority Leader Harry Reid will write the final version of Obamacare to be considered in the Senate with no input from the American people. This is an extremely complex procedure that will not be done in public, or in the form of a hearing, or a public conference committee, and only Senator Harry Reid, some other Senators chosen by Reid and Obama Administration officials will be allowed to read the bill before the Senate debate starts. Merger of the bills – IN PROGRESS.
Step Three: Senator Reid will then move to proceed to H.R. 1586, a bill to impose a tax on bonuses received by certain TARP recipients. A senior aid to Senate Majority Leader Ried has confirmed that he will move to proceed to Senate Calendar Number 36, H.R. 1586, or another House passed tax measure, so the Senate can avoid the Constitutional mandate that tax bills originate in the House. Proceed to tax shell of a bill – CONFIRMED.
Step Four: This scenario would most likely be implemented after the Massachusetts state legislature gives Governor Deval Patrick the power to appoint a new Senator and that Senator is seated by the Senate. The Senate swore in new Massachusetts Senator Paul Kirk on September 25th. Change Law of Massachusetts to allow for interim Senator – COMPLETE.
The final step in this plan is for the House to take up Obama care, without amending the legislation, and then sending that bill directly to the President for his signature. Matt Cover at CNSnews.com reports "House Majority Leader Steny Hoyer (D-Md.) won't rule out having the House vote on the Senate health-care bill without making any changes in it, which would allow the bill to go directly to President Barack Obama without having to pass through a House-Senate conference committee and another round of votes in the House and Senate–and a longer period of public scrutiny of what the text of the proposed law actually says." This scenario is in the process of being implemented and, if successful, it will result in Obamacare being on the President's desk in time for Thansgiving with minimal participation of the American public.
The San Francisco Examiner published an editorial today that exposed the fact that the American people can't see the bill. "When then-Democratic presidential candidate Barack Obama promised not to sign major legislation until it had been posted on the Internet for public reading at least five days, trusting voters took him at his word. Now they know better. Not only is the actual language of what is likely to become the main legislative vehicle for Obama's signature health care reform not available on the Internet, it hasn't been given to members of the key Senate committees or the Congressional Budget Office." The procedure being used, in addition to the exclusion of the American people from the process, should be of grave concern to all who want to participate in democracy and have a say in Congress' health care reforms that will touch 1/6th of the American economy.
SOURCE HERE
Posted on 10/10/2009 6:36 AM by Bobbie Patray
Thursday, 8 October 2009
About those white coats + Highest Medical Claim Rejection Rate?
COMMENT: We all know how much this administration loves 'staging' (remember how much money they spent on it during the campaign?). Well, the meeting with the doctors to push ObamaCare was no exception. For effect, they wanted the docs in their white coats which some did not bring. No problem, aides were able to find a 'prop' closet somewhere and provide the desired garment.
Now about that claim rejection rate -- many would think that those 'evil' private insurance companies would be guilty. You may be surprised!! With private insurance if you don't like your carrier, you can make a change, if a government option is the only choice, you are stuck!
Oh, and that Senate bill -- it looks like it will only raise taxes by $29B as Bill Frist and other weigh in.
AP is reporting that opposition to ObamaCare is waning. Fall is upon us and people are back into their regular busy schedules, but we CANNOT become 'weary in well doing'. We must continue to make those contacts -- no matter how many times you have done that before! Government run health care is NOT an option!




1. Those White Coats In the Rose Garden
2. GOP Doctor scoffs at O White-coat Photo stunt
3. Guess who has the Highest Medical Claim Rejection Rate?
4. Senate Health Bill Imposes $29B More in Taxes


1.Those White Coats In The Rose Garden
Politics: The administration stages a photo-op with handpicked doctors who support its health care reform. Fortunately, most doctors still believe that the first rule of medicine is to do no harm.
It would seem some doctors still make house calls. Some 150 of them made one at the White House Monday in an attempt to give a booster shot to the administration's chaotic and stalled health care reform drive.
Rather than a grass-roots uprising of physicians, this was a classic case of AstroTurfing.
Attendance was by invitation only, and 40 of the 150 were said to be members of Doctors for America, a reincarnation of the Doctors for Obama arm of the Obama campaign that boasts of having more than 15,000 members.
The physicians were told to bring their white lab coats with them to make sure the TV cameras to capture the proper image. Those who just showed up wearing suits or dresses were provided with lab coats hastily rustled up.
White House spokesman Reid Cherlin insisted that the doctors "were not invited based on their support for a public option." We'd like a second opinion on that. Doctors for America as an organization embraces a government-run insurance option.
"It just appears that the president of the United States, at this point, is choosing to meet only those who support his agenda," said Dr. Margaret Flowers, a Maryland pediatrician and congressional fellow for Physicians for a National Health Program, a group not invited.
Perhaps the reason is statements such as Dr. Flowers' that the "current health reform being written in Congress, particularly that being put together in the Senate Finance Committee (by Sen. Max Baucus), will not be universal and will not control health costs. ... It will not produce a health care system that uses our health care dollars wisely."
The fact is, most doctors are not happy with either the House bill or the Baucus bill. "This is war," Dr. George Watson, a Kansas physician and president-elect of the Association of American Physicians and Surgeons, told FoxNews.com. "This is a bureaucratic boondoggle to grab control of health care. Everything that has been proposed in the 1,018-page bill will contribute to the ruination of medicine."
Dr. Jane Orient, executive director of the AAPS, told the Washington Examiner: "Promised coverage is not the same thing as care. All you're getting is a place in the waiting lines."
A survey last fall of 270,000 primary care physicians by the Physicians Foundation found that if health care reform passes, 30% expect to see fewer patients, 13% will find something that does not involve patient care and 11% plan to retire altogether.
Read more here.


2. GOP doctor scoffs at O white-coat photo stunt
Last Updated: 5:36 AM, October 7, 2009
Posted: 4:05 AM, October 7, 2009
A Republican doctor-congressman mocked President Obama yesterday -- by waving his white lab coat in the air on the House floor as he lambasted a staged White House photo op with friendly doctors.
Georgia Rep. Phil Gingrey skewered the massive photo op on Monday -- highlighted in The Post yesterday -- in which White House staffers handed out white coats to physicians to visually show MD support for Obama's controversial health-care overhaul.
Gingrey said a dozen GOP House doctors requested a meeting with Obama last month to discuss health care -- but got no response.
Tongue firmly in cheek, Gingrey said he didn't know that wearing a white coat was a requirement to meet with the president.
"If these voices are not enough to get his attention" Gingrey said, "my white coat will."
Gingrey -- who stood next to a large photo of White House aides handing out white coats to the doctors -- held his medical smock in the air on the House floor. Read more here.
3. Deny This: Guess Who Has the Highest Medical Claim Rejection Rate?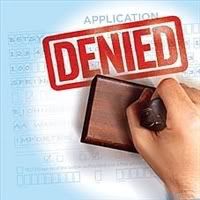 Oh, the establishment press will just loooooove this -- not.
From BigGovernment.com (HT Mark Levin over the airwaves this evening):
Beverly Gossage, Research Fellow for Show-Me Institute and founder of HSA Benefits Consulting wondered which insurance companies rejected the most claims. She found her answer in the AMA's own 2008 National Health Insurer Report Card (fairly large PDF).
I'm curious. Was it Aetna? Humana?
A chart showing the major carriers and how Medicare compared to them in the study follows:

Well, well.
The Medicare denial rate found in the study was, on a weighted average basis, roughly 1.7 times that of all of the private carriers combined (99,025 divided by 2,447,216 is 4.05%; 6.85% divided by 4.05% =1.69).
Read more here
4. Senate Health Bill Imposes $29B More in Taxes
Congressional tax experts reported that the bill would impose more taxes on health care industries than originally thought -- levies that could be passed on to consumers
WASHINGTON -- California Gov. Arnold Schwarzenegger praised President Barack Obama's drive to overhaul the nation's health care system on Tuesday and urged fellow Republicans to join in efforts to finish the job this year.
The new Republican support for Obama's top domestic priority came as a potential setback emerged for Senate health legislation: Congressional tax experts reported that the bill would impose $29 billion more in taxes on health care industries than originally thought -- levies that could be passed on to consumers in the form of higher premiums.
That could be troublesome news for an overhaul bill facing a crucial vote in the Senate Finance Committee this week, and with Republican senators already complaining that the legislation contains too many taxes.
Although Schwarzenegger stopped short of embracing a Democratic bill, his words of encouragement came on the heels of similar statements from other Republicans outside Congress, including former Senate Republican leader Bill Frist. The White House and Democrats highlighted them as evidence of momentum and division within GOP ranks.
Schwarzenegger, who two years ago tried but failed to pass a universal health care plan in California, said in a statement that he appreciated Obama's partnership with the states and his effort to hold down costs and improve quality. He urged lawmakers from both parties to "move forward and accomplish these vital goals for the American people."
Congressional Republicans responded that they have been calling for health care improvements for months -- just not the kind that Democrats are offering. Read more here.
Posted on 10/08/2009 7:24 AM by Bobbie Patray
Saturday, 3 October 2009
Radicals Wrote Failed Stimulus
Radicals Wrote Failed Stimulus
Policymaking: If the stimulus isn't working, perhaps it's because it was largely written by a collection of leftist interest groups called the Apollo Alliance that counts among its directors a co-founder of the Weather Underground.
The Labor Department reported Friday that 42 states lost more jobs than they gained in August, and that 14 plus Washington, D.C., reported unemployment rates of 10% or more.
Michigan's rate rose to 15.2%, highest in the nation. Nevada, represented by Senate Majority Leader Harry Reid, is second with 13.2%. California, home of House Speaker Nancy Pelosi, is tied for fourth with Oregon at 12.2%.
Clearly, the stimulus bill that no congressman read is not working. As it turns out, no congressman may have written it either. It's largely the creation of a coalition of leftist organizations called the Apollo Alliance, whose primary interests are saving the Earth, environmental justice and redistributing wealth. They are not friends of job-creating capitalism.
On Apollo's Web site, Sen. Reid, whose state also leads in foreclosures, is quoted praising the group of which former green czar Van Jones was a board member.
"We've talked about moving forward on these ideas for decades," Reid is quoted as saying. "The Apollo Alliance has been an important factor in helping us develop and execute a strategy that makes great progress on these goals and in motivating the public to support them."
Jones, the former Oakland, Calif., community organizer and self-avowed communist, was on the board of the Apollo Alliance when he accepted the position in the Obama administration as green jobs czar.
As Phil Kerpen of Americans for Prosperity told Glenn Beck, Jones has "described the Apollo Alliance mission as sort of a grand unified field theory for progressive left causes" that would tie elements of organized labor with community organizers and environmental groups into an outfit that would restructure American society.
Wade Rathke, founder of Acorn, was also on the Apollo board, as is Gerald Hudson, vice president of the Service Employees International Union, which provides the shock troops in the movement to pass government-run health care.
John Podesta, former chief of staff to President Clinton and now president of the leftist Center for American Progress, also sits on the Apollo board. Each day his group sends out talking points to the left side of the blogosphere. Mark Lloyd, diversity czar at the Federal Communications Commission, was a senior fellow at CAP. Read more here.

2. FYI: From the United Steel Workers Associate Members Program bragging about thier connection with the Apollo Alliance:
The Apollo Alliance for Good Jobs and Clean Energy

The United Steelworkers is one of the founding leaders of the Apollo Alliance and our members play central roles in a number of state affiliate projects. The New York State Apollo Alliance (NYSAA), for instance, was convened by the Sierra Club, the USW and the Environmental Business Association of New York State to fight for good jobs, clean energy and New York's energy independent future. USW Associate Members are encouraged to participate in Apollo Alliance projects and events and to carry the principles of the alliance into their other work across the country.
Source: http://www.fightbackamerica.net/apolloalliance.asp
Posted on 10/03/2009 9:10 AM by Bobbie Patray
Saturday, 3 October 2009
More cracks in ACORN



Obama heads for the high grass.
By
JOHN FUND
Only one of the five television networks that interviewed President Obama for their Sunday shows bothered to ask him about Acorn, the left-wing community organizing group whose federal funding was cut off last week by an overwhelming vote in Congress.
"Frankly, it's not something I've followed closely," Mr. Obama claimed, adding he wasn't even aware the group had been the recipient of significant federal funding. "This is not the biggest issue facing the country. It's not something I'm paying a lot of attention to," he said.
Mr. Obama added that an investigation of Acorn was appropriate after an amateur hidden-camera investigation had found Acorn offices willing to abet prostitution, but he carefully declined to say whether he would approve a federal cutoff of funds to the group.
Mr. Obama took great pains to act as if he barely knew about Acorn. In fact, his association goes back almost 20 years. In 1991, he took time off from his law firm to run a voter-registration drive for Project Vote, an Acorn partner that was soon fully absorbed under the Acorn umbrella. The drive registered 135,000 voters and was considered a major factor in the upset victory of Democrat Carol Moseley Braun over incumbent Democratic Senator Alan Dixon in the 1992 Democratic Senate primary.
Mr. Obama's success made him a hot commodity on the community organizing circuit. He became a top trainer at Acorn's Chicago conferences. In 1995, he became Acorn's attorney, participating in a landmark case to force the state of Illinois to implement the federal Motor Voter Law. That law's loose voter registration requirements would later be exploited by Acorn employees in an effort to flood voter rolls with fake names.Read more here.

Op-Ed: Acorn Runs Off the Rails
By
JOHN FUND
On Monday,[September 14] the U.S. Senate voted 83-7 to strip Acorn, the premier community organizing group on the left, of more than $1.6 million in federal housing money meant to assist low-income people obtain loans and prepare tax forms. This dramatic step followed last Friday's decision by the U.S. Census Bureau to sever its ties with the organization, one of several community groups it was partnering with to conduct the nation's head count.

Both of these actions came after secretly recorded videos involving employees in Acorn's Brooklyn, N.Y., Washington, D.C., Baltimore, Md. and San Bernardino, Calif. offices were televised on Fox News. The videos were recorded by two independent filmmakers who posed as a prostitute and a pimp and said they were planning to import underage women from El Salvador for the sex trade. They asked for and received advice on getting a housing loan and evading federal taxes.

In response, Acorn has so far fired four of the employees seen on the videos. But it claimed the videos were "doctored" and accused critics of a smear campaign and "racist coverage" of the incidents.

Such rhetoric in the past has deflected scrutiny of Acorn tactics, such as street demonstrations and boycotts against banks to force lower credit standards for home loans, which a congressional report found contributed to the subprime loan mess. But now Acorn may be finally running off the rails.

Last week, 11 of its workers were accused by Florida prosecutors of falsifying information on 888 voter registration forms. Last month, Acorn's former Las Vegas, Nev., field director, Christopher Edwards, agreed to testify against the group in a case in which Las Vegas election officials say 48% of the voter registration forms the group turned in were "clearly fraudulent." Acorn itself is charged with 13 counts of illegally using a quota system to compensate workers in an effort to boost the number of registrations. (Acorn has denied wrongdoing in all of these cases.)

A growing number of people once affiliated with Acorn want nothing more to do with the group. Marcel Reid, for example, was one of eight national Acorn board members who were removed last year after demanding an audit of the group's books. She notes that Acorn received $7.4 million in contributions from the Service Employees International Union (SEIU) between 2005 and 2008 but actively fights unionization efforts by its own employees. Ms. Reid also notes that Acorn was sanctioned by the National Labor Relations Board in 2003 for illegally firing workers trying to organize a union.
Read more here.
It is implausible to think, based on Bertha Lewis's White House contacts, that Barack Obama is not paying attention to ACORN.
On Sunday, Barack Obama played ignorant on the situation with ACORN. Obama told ABC's George Stephanopoulos, "Frankly, it's not really something I've followed closely. I didn't even know that ACORN was getting a whole lot of federal money." Never mind that Barack Obama used to work for ACORN.
Based on information obtained by RedState, we think Barack Obama may live to regret those words.
With everybody focused on ACORN these days, what if we could dig around and see who in the Obama administration shows up in Bertha Lewis's rolodex? Bertha Lewis is the CEO of ACORN.
Bertha Lewis is considered one of the 100 most influential women in New York according to Crain's New York Business. She is an activist, organizer, and radical of the far left. When she calls, union bosses and others pick up the phone.
It's not that hard to look into her contacts. RedState has seen a list of Bertha Lewis's contacts. We did not seek it out. It just showed up one day unsolicited. We did not ask for it. We did not expect to get it. But now that we have it, we should see who is in there.
The contacts came from a credible source who is no fan of ACORN. An ACORN employee gave it to him. Having examined the file for a week and after consulting with others, we believe the list is legitimate. It fits a recent pattern of leaks out of ACORN as the rats scramble from the sinking ship.
Read more here.


What has been ACORN's response to the devastating undercover revelations of abject corruption, mismanagement, tax evasion, and human sex-slave trafficking? Why, blame everyone else, decry racism, and claim victimhood, of course.
Here's the
ACORN CEO's previous statement
:

ACORN chief organizer Bertha Lewis would not defend the employees in the video, but insists that the videos "are doctored, edited, and in no way the result of the fabricated story being portrayed by conservative activist 'filmmaker' [James] O'Keefe and his partner in crime. And, in fact, a crime it was—our lawyers believe a felony—and we will be taking legal action against Fox and their co-conspirators."
Also, from the Los Angeles Times, "
ACORN Circles the Wagons
":

Critics charge that that adversarial mind-set, which helped make ACORN one of the most formidable community organizing groups in the country, may also prevent the group from conducting an honest reckoning with any flaws that the videotapes may have revealed.
"They have a very bunker mentality," said Marcel Reid, a former national ACORN board member who left the organization because she had problems with its leadership. "They perceive everyone as a threat. You're either with them or against them, and there's no space in between" ....
Read more here.
ACORN Chief Dodges Congressman's Call to Come Before Congress
Rep. Darrell Issa, R-Calif., ranking Republican on the House Oversight and Government Reform Committee, presses chief organizer Bertha Lewis to prove her commitment to reforming the community activist group by showing more transparency.
ACORN's top officer on Sunday dodged repeated calls to come before Congress and testify about the embattled group's finances and ties to other organizations.
Rep. Darrell Issa, R-Calif., ranking Republican on the House Oversight and Government Reform Committee, had pressed chief organizer Bertha Lewis to prove her commitment to reforming the community activist group by showing more transparency.
"The bottom line is there's no transparency in ACORN," Issa said on "FOX News Sunday."
The pressure comes in the wake of controversy over a series of hidden-camera videotapes showing the organization's employees offering advice to undercover filmmakers posing as a pimp and prostitute. ACORN has pledged to investigate its offices and workers.
"Internally, let's have some reform," Lewis said. "It's indefensible what I saw (in the tapes)."
But she refused to answer Issa's request to come before his committee. Read more here.


ACORN to stand trial in Nevada voter registration case
12:00 AM CDT on Thursday, October 1, 2009
LAS VEGAS – The political advocacy group ACORN and a former supervisor were ordered Wednesday to stand trial on charges that they illegally paid canvassers to register Nevada voters during last year's presidential campaign.
Las Vegas Justice of the Peace William Jansen set arraignment for the Association of Community Organizations for Reform Now and former regional supervisor Amy Busefink for Oct. 14 in Clark County District Court. Read more here.

Before latest crisis, ACORN was imperiled by scandal
The liberal political organizing group ACORN faced internal chaos and allegations of financial mismanagement and fraud long before two young conservatives embarrassed the group with undercover videos made at field offices across the country.

Internal ACORN documents show an organization in turmoil as last year's presidential election approached, with a board torn over how to handle embezzlement by the founder's brother and growing concern that donor money and pension funds had been plundered in the insider scheme.

Minutes from a meeting ACORN held in Los Angeles last summer reveal an organization then on the brink of financial collapse. "Currently owe over $800k to IRS" the minutes note. "Haven't paid medical bills of over $300k. We are essentially 'broke' nationally and lots of offices are struggling."
Read more here.
Posted on 10/03/2009 9:07 AM by Bobbie Patray