Tuesday, 18 January 2022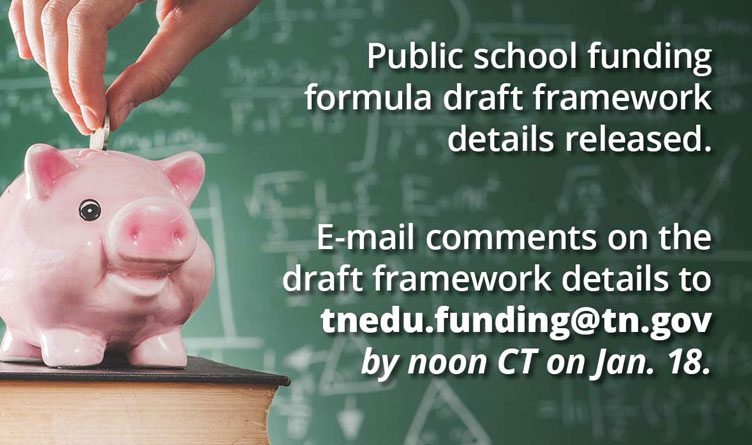 Image Credit: Tennessee Department of Education / Facebook – Link to Draft framework for Education Funding Formula HERE.
The Tennessee Conservative [By Jason Vaughn] –
Even as questions continue to be raised about the revamping of school funding in Tennessee, state legislators are looking to continue to move along with the reform during this session.
Many want to know what the expected contribution from local school systems will be, how student achievement will be factored in to the new formula, and how much extra funding schools should receive to effectively educate economically disadvantaged students and those with disabilities.
Representative Mark White of Memphis says he approves of pushing forward, despite the number of questions that remain unanswered.
"I know the local portion is complex and it's very important, however, I don't want to see us delay what the state can do while the General Assembly is in session," White said. "I would like for us to move forward with that."
On Wednesday, Education Commissioner Penny Schwinn said that Governor Lee had not yet decided if he would push for the legislation to be passed this year.
House Speaker Cameron Sexton of Crossville and House Majority Leader William Lamberth of Portland have both said they are in favor of moving ahead with the new funding formula.
"We're all wanting to sit down and have the conversations. We're waiting to hear from the steering committee, but we want to improve education in our state and I think we need to increase the base funding and do some other things," Sexton said on Thursday.
Sexton has given his support to an outcomes-based funding formula that would provide bonuses to schools that have higher student achievement. Critics say this would be a disadvantage to districts with economically disadvantaged students because of the correlation between achievement and socioeconomic status.
"I believe that school systems should all start with the same base but if you're a high-performing school system you should get additional funding as well," Sexton said.
The draft framework uses performance measures like ACT scores, literacy scores, and completion rate of the Free Application for Federal Student Aid.
Legislators have asked to see how other states figure out local funding amounts. Tennessee law currently states that local funds designated for education cannot be decreased even if the state provides additional funding. The state is allowed to withhold state funding if local budgets do not comply.
Schwinn has recommended that local communities be held harmless for the new funding changes for as much as five years to allow them time to adjust.
"One of the things that we've heard pretty significantly across the state is that the maintenance of effort should not change, that it should stay consistent with what that local contribution is, but the way we calculate a potential local contribution, that is where we really want to focus," Schwinn said.
Senator Bo Watson of Hixson is pushing for the legislators to consider what other states do, "rather than locking ourselves into believing that our formula has this maintenance of effort that we're all used to."
The steering committee, made up of nine legislators from the House and Senate leadership, met for the first time after Thursday's release of the draft for the new funding formula. This committee has been leading the funding review process since its launch by Governor Bill Lee and Education Commissioner Penny Schwinn.
The committee will meet again on February 3.
FOR MORE INFORMATION AND ADDITIONAL ARTICLES
https://tennesseeconservativenews.com/legislators-prepare-to-move-forward-with-school-funding-reform/?inf_contact_key=52e5961a3e145e7120dfe29f16e55819&fbclid=IwAR2nExIbzR64kSKwkSqrHQV4DFWXdn_qbwZyyZwIS2a4fmE108Manu4b6d0
Posted on 01/18/2022 5:50 AM by Bobbie Patray
Comments
No comments yet.